Roisin's Vision for Rainbow Lighthouse Centre
"My vision for Rainbow Lighthouse is to create a centre of wellbeing to support and help those of us that need guidance. A safe and quiet space to find oneself. Spirit came to me and explained that I am the mother of the orphans. They said that everybody is an orphan and I had to help guide them back to the garden of their heart. I am creating a sacred space of healing and support with the energy of love in building the centre and accommodation for those that need space and safety. To make this happen I need people to support my vision, open hearts in the way of volunteers, messengers to spread the message, financial support, all people that feel they can be of service in whatever talent they have."
Read more
Spirit says we must awaken the answers within us for the life that we have chosen. We have become extremely sensitive beings in this human lifetime. We are suffering in a major way – our minds are not at rest. Collective confusion, collective madness, collective addiction, collective depression and collective illnesses – all of the mind. Spirit says it's time to reach for the answers within. Spirit has guided Roisin to create a centre of tranquil serenity to support people from all walks of life to find themselves spiritually, emotionally and mentally. (This is the Rainbow Lighthouse Centre in Dromore, County Down.)
Seven years ago Spirit showed Roisin a vision of a village of wooden pod houses which would hold special energies for six chosen therapists who are highly-attuned to the vibration of Rainbow Lighthouse. These therapists will guide and support the beings needs at this time on the planet to enable the being to feel and receive more of what the Universe has to offer.
The guides also showed Roisin a vision for accommodation for those of us who need refuge – a support system to help beings to get back on their feet. We are currently building our pod village and renovating our holistic centre in order to expand our workspace to hold spiritual events such as Clearing events, spiritual seminars, group therapies, yoga groups, meditation classes and spiritual courses.
These events are intended to guide, to empower and support people who want to find the answers by awakening their lightbody. The guides also asked Roisin to save/rescue? different plots of land so that animals can graze and heal the vibration of the Earth. It is the animals that heal the earth while it is the humans that contaminate the Earth.
This is the vision at this moment in time for the Rainbow Lighthouse family – to attract like-minded beings from every walk of life and from any belief system that wish to awaken their minds – everyone is welcome at Rainbow Lighthouse to become a volunteer, to give their time or energy in any form and to use their talents to help this vision to come to fruition. To be connect with Rainbow Lighthouse you can donate your time, donate building materials or make a financial donation. We accept help in all forms – help is a beautiful energy we ask for to create a family of beings to support and awaken other beings and to create a Lighthouse of energy in everyone. Let your soul guide you  in being a part of something bigger than your mind.
Rainbow Stars Remembrance Package
Rainbow Stars is a compassionate service intended to support families that have lost or are experiencing the loss of a loved one. Roisin has been guided by Spirit to offer this service.
Read more
Roisin has been guided by Spirit to support parents and siblings of the lost loved one in Clearing shock, separation, confusion, emptiness and anger. Roisin has also been guided to create an energised candle to support the grieving process – each time you light and burn the candle, healing will occur at a deep level.
Specific homeopathic drops tailored to support the immediate family members on an emotional level will be created by Roisin and Rainbow Lighthouse therapist Emma.
A prayer card is also included with prayers that have been guided by Roisin to support the heart.
A Rainbow Star will be created in memory of your loved one and lovingly placed in the Rainbow Remembrance garden by the family or the Rainbow Lighthouse therapists.
Roisin is also creating a place of remembrance at the pond in the garden of the Rainbow Lighthouse Centre surrounded by fruit trees and roses to heal grief. Families are invited to visit and reflect in the peaceful energy of love at the end of each calendar month.
This service being guided through the compassionate heart of Rainbow Lighthouse will create a very powerful process for the families involved to get to a deeper acceptance of why we chose these lessons in this lifetime.
The Rainbow Star Package costs £100. All proceeds from the Star Package contributes to the upkeep of the Remembrance garden for the families to visit and take benefit of.
Within this package Roisin offers her Clearing as a gift free of charge.
For details of how to avail of this service contact helen@rainbowlighthouse.net
Rainbow Remembrance Garden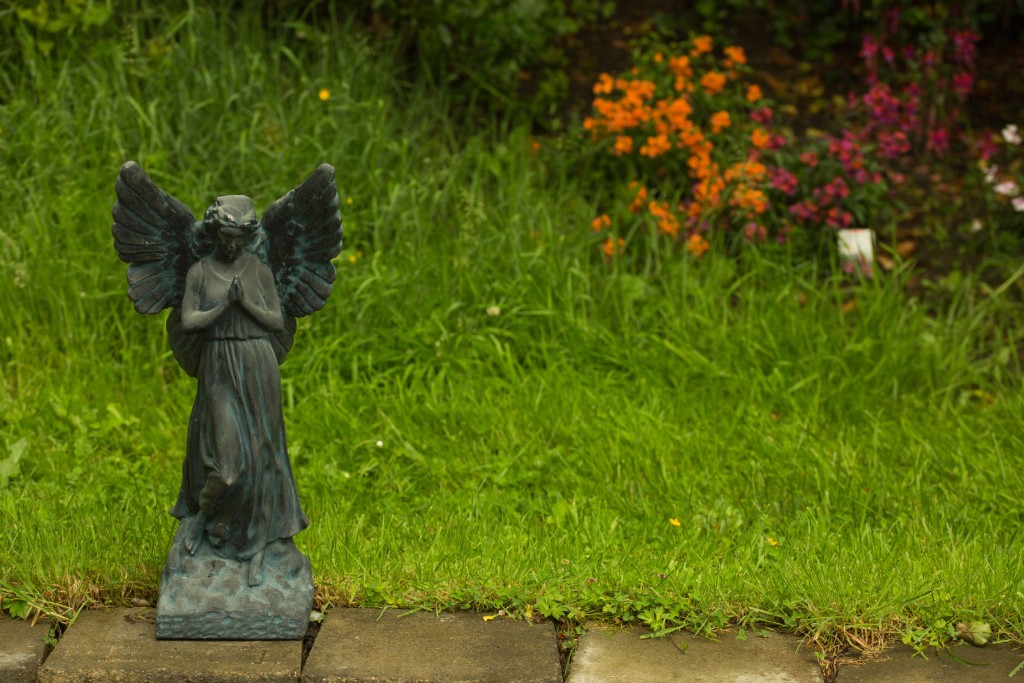 Roisin been guided to open a service of remembrance for lost loved ones. It is important to understand that when the spirit leaves the body it does not disappear or die. It regenerates itself for the next stage of its spiritual journey. You as a loved one can connect with a loved one who has passed on, no matter how many years it has been since their passing.
Read more
A message from Roisin:
I have been guided to open a service of remembrance for lost loved ones. I'm saying that our bodies die when our human journey is completed. Our spirit rises from the human vessel and stays with the family until the time is right to move on to our next reincarnation. I have been communicating with Spirit since I was four years old. I say you don't need a human body to communicate. Our bodies allow us to experience the five senses – sight, sound, taste, touch and smell. We don't need a mouth or hands in order to communicate. We are highly intuitive beings. We all come in with this intuitive sense before we are even birthed into our physical body. As we grow in the mother's womb we can communicate with both parents, though most parents are unaware of this as they have become mind-based and they have forgotten the ability to communicate intuitively.
All living life, humans, animals, plants, the elements such as water, air and earth etc, all have a voice. What is being asked of us as spiritual beings having a human journey is to tune in to our being and awaken our intuitive mind. When Spirit guided me to open the remembrance area in the garden at Rainbow Lighthouse, I was so pleased. The message is to awaken people to the healing of the spirit within them. I am guided to become a channel for your lost loved ones, to channel the energy of healing into a candle – a new way of communicating with the loss of your loved one.
The candle is placed on a candle holder made using dandelions from the healing garden at Rainbow Lighthouse. You can have a personal memento of your loved one placed in the centre of the candle holder, for example a photograph, a lock of hair, ashes and so on. The candle will open up a new way to communicate with your loved one. This powerful vibration of Spirit, through the energy of your loved one channelled within your candle, you will experience a beautiful connection that will open up a deep healing within yourself.
It is important to understand that when the spirit leaves the body it does not disappear or die. It regenerates itself for the next stage of its spiritual journey. You as a loved one can connect with a loved one who has passed on, no matter how many years it has been since their passing. I become a channel to facilitate your loved one to come through into the energy of the candle. This opens up a journey of healing deep within yourself and the loss you have suffered.
This is the first time that I have ever been asked to do this service. I feel honoured to be chosen by Spirit to offer this to the world. The price for this service, which includes the making and invocation of your candle, the Rainbow Star, Vibrational Drops and Prayer Card, is £300. A new journey can open up on a different level with you and your loved one. There are many journeys we take together and there are many destinations, but no endings.
Our People
A message from Roisin about Emmet:
I met Emmet four years ago when he booked a one-to-one session and felt a powerful connection to him as a mother-son relationship. Over time, looking deeper within to find the answers, he has shifted and cleared his being. He is a much awakened soul, wanting to learn, grow and create.
Read more...
I was guided by Spirit to ask Emmet to become a part of Rainbow Lighthouse and he was very open to this. He volunteers his time and energy to my vision for Rainbow Lighthouse – he flows like a river rising above the blocks to find the solutions. Emmet's energy is pure and refined – he gives without wanting and receives without forgetting.
I call Emmet the Alchemist – he is the scientist, the candle maker, the wood turner, the chocolate maker, and the list goes on – so many talents that continue to surface. I am truly grateful to Spirit for reconnecting us in this lifetime and to Emmet for being open and accepting of all he has chosen. Emmet is a team player and understands the power of working together for the greater good, he keeps the Lighthouse beam turning.
---
A message from Roisin about Aaron:
Aaron is from the beautiful seaside town of Howth, County Dublin. Born with the energy of the cleansing air and the salt, he started to learn guitar at the age of eleven. A gateway was opening, he was birthing his talent. He connected very quickly and soon after began writing his own songs and melodies. Aaron knew at a very early age in his life that music was his calling. He has travelled all around the globe, learning and connecting spiritually with the vibration of his melodies.
Read more...
I first met Aaron at a Clearing event at the beautiful yoga centre in Howth. I immediately felt his pure energy and openness. I could see how open he was and how he connected with Spirit through his melodies. Aaron's music helps to raise our being's vibration into higher dimensions. Aaron is a wise musical soul. With wisdom in every note he blends together a soft gentle energy with power in the gentleness.
I look forward to Aaron and my journey together, creating energy that is expressed in a truly beautiful way. You can download Roisin's meditations which are birthed from Roisin and Aaron's collaboration from the Rainbow Lighthouse Online Store.
---
A message from Roisin about Emma:
I met Emma three years ago at one of my Clearing events and instantly felt a connection with both her and her work. I could see she had picked a journey to be a visionary and awaken people in this lifetime. Emma began to work on clearing all that was in her way – she has attended the majority of the Rainbow Lighthouse Clearing events and retreats over the past two years. Emma has worked continuously on raising her light body and this enables her to go deep into the body system of her clients to find the source of ailments and disease. She expressed to me that she wanted to work for Spirit and for Rainbow Lighthouse.
Read more...
Emma is trained in Systematic Kinesiology and testing the body to identify imbalances. Spirit had guided me to ask Emma to work on my own body, testing certain areas we began this process. We both went on a journey of self-discovery, deep into past lives unveiling old memories and numerous lifetimes when we had walked together. We both journeyed into these lifetimes. This was very a powerful experience. Spirit had reconnected us once again to support beings into higher levels of consciousness in this lifetime.
I was very pleased we have reconnected this lifetime. Emma supports my bodies system as I prepare for my Clearing events in Ireland and across the world. Emma works on all the bodies from physical, emotional, spiritual to the cell bodies that hold wellness. Emma has been chosen by Spirit to work on an intense level to bring people into balance. She also works intuitively with the body connecting on so many levels to awaken your own healing. Emma is supported by the Aura-Soma System of colour – a powerful energetic system. To find out more about the Aura-Soma System click HERE.
---
A message from Roisin about Alexandra:
I first met Alexandra when she attended one of my Clearing Workshops in Belfast, over nine years ago. Alexandra was looking to work on her spiritual awakening on a deeper level. I was told by spirit that Alexandra  would become a big part of my life and work with me in a spiritual form. Alexandra has been in my life ever since that day and is part of the Rainbow Lighthouse Therapist Team. Four years ago Alexandra moved house to Dromore in Co. Down to be close to, and to support, the energy of Rainbow Lighthouse. Alexandra has three Children, Mollie, Anna, and Jess and two guinea pigs.
Read more...
Alexandra is a much awakened soul, I have watched how Alexandra has transformed her life-lessons into wisdom. She is very connected to Spirit's message of awakening and to guiding others to reach their greatest potential.
Alexandra's clear energy and her openness blends beautifully into the Rainbow Lighthouse ethos. She has worked intensely on her spiritual awakening and acquired great knowledge about Spirit and how you can turn your life around by looking through new eyes. Alexandra has studied extensively – she is a qualified Rainbow Reiki Master for over fourteen years, she is also a Teacher of Violet Flame St. Germain Energy and is an Aura-Soma practitioner.
Two years ago Spirit asked me to guide Alexandra to learning Colour Energy Tapping Therapy. Spirit expressed that this therapy would support people to become their own therapist. Alexandra connected the moment I told her. She started the journey to learn the tapping technique and is now a qualified tapping therapist.
Alexandra and I sat together as spirit expressed to me how it should be used. What came through was that Alexandra was to guide the client into tapping the four dual colour bottles from the Aura-Soma System into their bodies. To find out more about Aura-Soma Systems please go to our Aura-Soma page by clicking HERE.
We both felt so privileged to be part of this new way of tapping colour into the body. Bringing both Tapping therapy and Aura-Soma together supports powerful shifts in your spiritual, physical and emotional bodies – awakening you to a deeper understanding of the self and a clearer communication with your inner voice. When Alexandra is not doing her therapy work, she accompanies and supports me when I travel with my Clearing Events around Europe and America.
A message from Roisin about Debbie:
I met Debbie seven years ago. Her energy is very awake and light – she has worked extensively on her self-awareness – looking into deep issues to raise her vibration higher. Debbie has attended many of my Clearing Workshops. She has clear energy vortices that flow from her being and is very awake to what the body needs to repair itself. Debbie has carried out intensive study on the body system, has been a physiotherapist in a local hospital for 10 years and is a fully-trained Acupuncturist.
Read more...
I was guided by Spirit to ask Debbie to connect with the chakra system within the body and to introduce Acupuncture Therapy into the chakra points of clients. Debbie was very open to this and started to study this new way of using acupuncture – the results are truly amazing.
The body is an energy source. Debbie places needles into chakra points and brings the chakras into balance releasing stagnant energy that unbalances our system, causing physical pain and emotional upset. While Debbie is pinpointing the chakras they realign themselves opening to receive fresh energy – the whole energy system flows freely and with ease.
The more balanced the chakra system, the more in tune your being becomes to higher vibrations – a beautiful therapy to open up to your spiritual voice.
---
A message from Roisin about Columba:
I met Columba two years ago when he had a telephone session. He was very open and willing to let go and turn around his life, he attended numerous clearings and has shifted old karmic ties. Columba has also volunteered his time and energy in supporting the Rainbow Lighthouse vision. I was guided to ask Columba to make candles for Rainbow Lighthouse. He was delighted and made the first candles at Rainbow Lighthouse in March 2016. This was an amazing experience for Columba – he transformed so much into light and is still transforming.
Read more...
I was guided to ask Columba to train as a Craniosacral Therapist as part of the Rainbow Lighthouse vision. Columba accepted and he is now studying Craniosacral Therapy which is a subtle therapy involves light holding of the skull and sacrum with barely-detectable movements. The action of craniosacral therapy is so gentle and slight yet achieves profound health benefits with minor and safe interventions. Practitioners believe that the tiny manipulations of CST influence the pressure and circulatory rhythm of cerebrospinal fluid, the fluid that surrounds and cushions the brain and spinal cord.
---
A message from Roisin about Karin:

I met Karin ten years ago when she was visiting Wicklow for Aura-Soma events. Karin's energy is like the beautiful stag – proud, gentle and protective. Karin shares the wisdom of Aura-Soma with her powerful and deep Family Constellation work. Karin hosts Roisin Eve's Clearing Events in Liestal, building the rainbow bridge between Switzerland and Ireland – a beautiful and awakened being.
---
A message from Roisin about William:
Spirit came to me on Saturday the 1st of April 2001 and told me I was going to meet my husband. I telephoned a friend, told her what had happened, and asked her to accompany me to Belfast as I had to go and connect with this energy. We drove to where I was guided – a hotel in Belfast city that I had never been to before.  As we walked into the hotel bar I saw William standing at the end of the bar with a friend I knew he was my husband to be. The magic began:
Read more...
15 years later we have had two births – a beautiful daughter, Holly and the Rainbow Lighthouse Centre.
William works alongside me supporting my vision for Rainbow Lighthouse with a strong hand and lots of ideas and vision. When the Rainbow Lighthouse beam is weak he holds it up.
When William is not managing me, he is planning the next event whether in Ireland or France or the U.S., or he is holding free demonstrations helping people to see who they truly are, with the energy of colour. He will be resuming Aura-Soma consultations from September 2016.
William is very intuitive and focused and connects in a deep way to what people need. He doesn't like quick fixes, he believes in a steady process to find oneself.
William's experience with people from all walks of life allows him to share his knowledge and wisdom freely, supporting all who come to Rainbow Lighthouse.
---