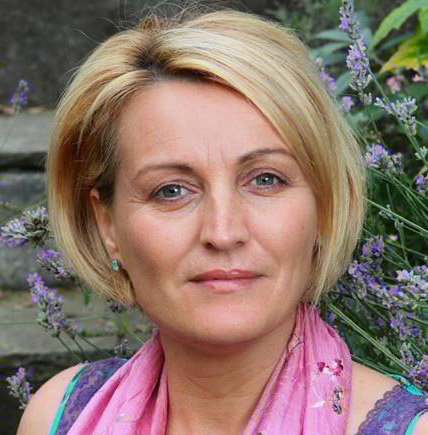 Roisin Eve is an Inspirational Visionary and with her intuitive qualities has been helping people to find their path in life. Roisin Eve lives life seeing and communicating with the energy in our consciousness. 
Roisin Eve was born at home on 1-1-1969 in a rural dwelling on the western shore of Lough Neagh, in the village of Brocagh, County Tyrone in Ireland. Roisin Eve says her mystical journey began in Brocagh which takes its name from the Irish word 'Brocach', meaning 'badger warren'. Roisin Eve says the badger symbolises self-expression, holding one's own – it has to be fearless, bold and brave.  The badgers are the keepers of the Earth's healing herbs. People who connect with the badger have the courage to use unconventional methods. Roisin Eve says she has to be an amazing digger like the badger to access the depths. This is where the mysteries and magic of life and creation is held – linking us to the animal and plant spirits.
The magick began in the womb the night before Roisin Eve was due to be birthed at her parent's country home. She turned from normal position into the Frank breech position, leaving her upside down. Roisin says this was her first gift in being able to see things from a different perspective. She lives her life seeing things from a different perspective.
Read more
Roisin Eve has been guided by Spirit since the age of four and a half when she had an out of body experience due to a traumatic event. This is when she felt her awakening to Spirit began.
Roisin Eve began giving messages at an early age of nine to her school friends. Roisin Eve says as with any gift you must grow and learn to use the gift responsibly. She was guided to create a business and to call it Rainbow Lighthouse due to the storms of life. We all need the light to guide us back home. She travels all around the globe (USA, UK, France, Switzerland, Australia etc) bringing messages and guidance and shining the light into each person that comes in contact with her, to waken them up to their own light. Roisin Eve's guidance is through Spirit which awakens and transforms.
Roisin Eve's gift enables her to connect with deep emotional, mental and physical issues in any person whom she comes in contact with.
Roisin Eve says that we are all from the same energy source. There is no separation with this energy. Not even when we enter the physical body are we separated. The physical body is the illusion which creates the mind-set in humans – the "them" and "us".  Then separation is birthed.
Roisin's gift and message has touched over 100,000 clients, both physically and virtuall across Ireland, England, Switzerland, USA, Italy, Germany, Singapore, France and Austrailia. As a result of her special gift and reputation for helping people she has been on BBC TV, BBC Radio – John Daly Show several times and was a regular guest on Lynda Bryans U105 radio show. There is a long list of people who have benefited from Roisin Eve's ability and sensitive perception. She has acquired a nationwide reputation of helping people find the solution to their situations.
Roisin Eve's Goals
Roisin Eve has worked with energy for over 20 years and in this time has learnt to trust messages from Spirit. She has seen how peoples' lives can change when they clear old conditioning and retained emotions, sometimes from childhood, to discover that part of themselves which is their truth. To follow your truth enables peace and grace in your life.
Read more
Many people are 'asleep' in this context and do not realise that they are acting out what is expected of them, or following the conditioning of parents, families, religion and education. This leads to frustration, anger, disappointment and lack of peace.
Roisin Eve offers different ways to 'awaken' and see a different side to your life – which is just waiting to be ignited. You can have personal contact in several ways with Roisin Eve, you can join regular group days around the country all year, you can volunteer to work with Rainbow Lighthouse and even stay at the centre in Dromore or you can join one of the many retreats that Roisin Eve holds across various countries.
 Working with Groups
It is during group sessions that people can feel spiritually and emotionally uplifted. The energy of the group is used to raise the overall vibration which helps Roisin Eve to clear old emotions and conditioning, so that people feel better about their lives and the people in their life.
Read more
Although people are in groups between 20 and 70 there is no individual conversations, no-one has to say anything and for three or four hours everyone sits in Roisin Eve's energy while she works energetically with negative emotions and conditioning. Many people immediately feel better and with others it can take a day or so, the effects are feeling lighter, happier, more at ease with everything that is going on at that time, more peaceful, energised and enthusiastic about their lives and the opportunities to make things better. (See 'Testimonials' at the bottom of the Home Page)
Working with Children
Roisin Eve works with children in a number of ways such as one to one sessions, photographic Clearings or Clearing Days. She also holds family days working with the children and parents together. Children clear very quickly because they trust more, forgive more quickly and the conditioning patterns are not so ingrained.
Read more
As children we are exposed to the energies of our parents. Some children carry their parents' suffering in different forms. For example if a parent has experienced trauma or grief, it is usual for the child to hold some of these energies in order to support the parent. The child would be unaware of this and may express these energies in different forms – not understanding why they feel the way they feel.
As an example, a client took her daughter to Roisin Eve as she was concerned about the child's behaviour, as the child was finding it extremely difficult to be left in the schoolroom without the mother being present. The client had been experiencing this repeated issue for four months until the child had a session with Roisin Eve. As Roisin Eve looked at the child's energy Roisin Eve could see grief but it was not the child's grief. She asked the mother if she had lost a child previously, and she answered yes. At that moment the mother started to release the grief that she had not dealt with and did not know she was carrying. Her daughter stood up and put her arms around her mother and said "It's all better now Mummy, I can go to school, I'm not going to die".
In that one session the lives of both the mother and daughter were transformed. This is how powerful energy can be whether in a positive or negative form.
Roisin Eve was guided to hold meditation classes at her daughter's school in supporting the children in understanding the importance of relaxation, stillness and peace for their well-being. The response from the children and their parents was so positive that the classes continued for three years. Furthermore, during the week of their tranfer tests, Roisin Eve was guided to hold early morning meditations before the start of school in order to prepare the children for teir coming examinations.
During this time Roisin Eve created a CD of short meditations for children and the inner child, which includes illustrations by the children on the CD cover. This is available for purchase from our website store.